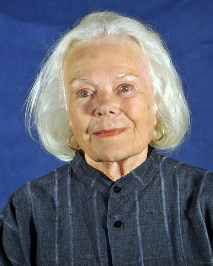 Mary Tonetti Dorra (Mrs. Henri Dorra), who has lived in Santa Barbara for over 40 years, grew up in Fort Worth, Texas, graduated from the Hockaday School in Dallas and from Vassar College in 1956. She lived in Italy for three years where she studied at the University of Florence and then worked as a research-reporter in the Rome bureau of Time-Life. Upon returning to this country she attended graduate school at UCLA, obtaining a master's degree in Italian. She taught Italian at UCLA, then at the University of California, Santa Barbara in 1965 and, before her return to writing, devoted herself to husband, children and garden in Santa Barbara and to community service. The Dorras have lived part time in Paris since their marriage in 1965.
Mary has since 1980 lectured extensively throughout the United States. She has written travel articles for Gourmet Magazine and the New York Times as well as garden articles for HG, House Beautiful, Elle Décor, the  Los Angeles Times Magazine and currently for Travel and Leisure.
An article "Colonial Kitchen Gardens: A National Legacy" appearing in the April 1993 issue of Gourmet Magazine was the genesis for her first book, Beautiful American Vegetable Gardens. Her second book, Beautiful American Rose Gardens, also published by Clarkson Potter is now in its third printing. More than 9000 copies were sold during the first three weeks of November after its release.
KIRKUS reviewed Demeter's Choice a Portrait of my Grandmother as a Young Artist: "An aspiring female sculptor pursues art lessons at home and abroad, carves a place in history and finds love along the way in this well-written historical novel…an elegant tale of a female trailblazer whose remarkable story deserves a wide audience."
Two Lives on Four Continents a Double Memoir will be available in bookshops and online in December.