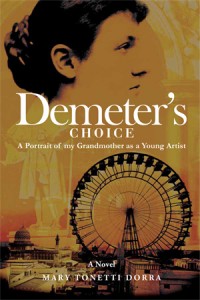 Order your copy today at:
Amazon
Description
Travel back to the Gilded Age of American history, when all that glittered was not gold. Follow young sculptor, Mary Lawrence on her journey toward truth, as she scratches the surface of the glitzy Beaux Arts community and finds that what lies beneath can be dull and hard. It's 1892, and Mary is on the verge of an artistic breakthrough, both for herself and for women artists everywhere.
Reviews
Kirkus Review
An aspiring female sculptor pursues art lessons at home and abroad, carves a place in history and finds love along the way in this well-written historical novel.
Debut novelist Dorra combines fact and fiction in the rich life story of her grandmother Mary Lawrence. The tale opens in 1893 as Lawrence's statue of Christopher Columbus goes on display at the Columbian Exposition at the World's Fair in Chicago. The statue has been shipped to the site and installed, but a male chauvinist with a bit of power objects to a woman's work taking such a prominent place; he has it moved to a lesser site. Lawrence, an early supporter of the suffragette movement, makes an appeal to some higher-ups and gets her work returned to its rightful spot. Lawrence had developed her artistic talents at home in New York under the tutelage of Augustus Saint-Gaudens, and it was through her mentor that she received the World's Fair commission. The book also traces her travels through Europe in the late 1800s, presenting them through the eyes of a well-bred young woman with artistic ambitions. Dorra does a terrific job of providing a sense of place as Lawrence explores each new city. We can taste the fresh baguettes in Paris and see the picturesque canals in Venice. Lawrence is a contemporary of another Chicago World's Fair artist, Mary Cassatt. Lawrence visits Rodin at his Paris studio and meets her future husband at a ball hosted by Charles Dana Gibson, yet these other artists don't overshadow her achievements. That's fitting since Lawrence never sought celebrity; she simply wanted to be the best artist she could be. When she finds love with a fellow artist, we cheer them both.
An elegant tale of a female trailblazer whose remarkable story deserves a wide audience.
Kirkus Indie, Kirkus Media LLC, 6411 Burleson Rd., Austin, TX 78744
indie@kirkusreviews.com